Clare G. Harvey is the Executive Director of ISNS. Ms. Harvey (Dip Shen Tao) is an internationally recognized Harley Street Consultant, formulator, inventor, and author in the field of complementary and integrative medicine.
Clare is known for her pioneering work and eclectic approach with Flower Essences and their ability to address the root cause of disease and disharmony. She has been fortunate to study with leading innovators in the healing and integrative medicine field and is an third generation expert in seven healing modalities, including Chinese Medicine, Flower Remedies, Shen Tao Acupressure, Subtle Energetics, Sound Therapy and Metamorphic Techniques and Vinyasa Krama Yoga. From the time she was 7 years old, she learned the ancient art of wild crafted flower essence from her grandmother, who was trained by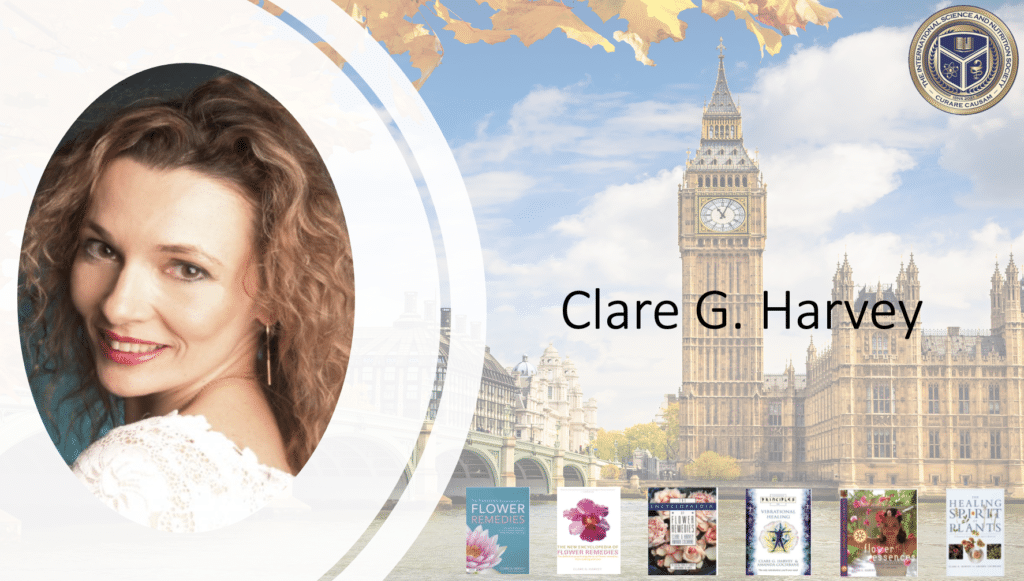 Dr. Edward Bach, MD of the famous Bach Flower Remedies. She is known as the Flower Shaman and Queen of the Flowers. Clare gained a scholarship and studied with the philosopher J Krishnamurti and was influenced and interacted with some of the most forward thinkers of our time, emanate quantum physicist Professor David Bohm, Dr. Masaru Emoto and Rupert Sheldrake. She went on to St Martin's School of Art and later returned as Head of Art Department at the Krishnamutri Educational Centre in the UK. Her search for unique flower remedies led her to the remote jungles in Peru, Thailand, Columbia, as well as Africa, India, and Australia, where she collaborated with healers, doctors, and shamans. Where she also developed: new ranges such as The Flower of the Orient, and Flower Essence of Australia. In addition, Clare developed an extensive range of potent therapeutic essences first discovered by the Australian aboriginals. To take this a step further, she collaborated with Dr. Dori Naerbo, Ph.D. together they are the originators of Adaptofleur, specific body organ targeted flower remedies as well lately co-creating the first ever Nordic Flower Essence Line under their partnership Floragenix. Clare is an author of seven books and presently working on her next two books.
1) Encyclopedia of Flower Remedies, the first authoritative work on the subject, translated and published worldwide.
2) Principles of Vibrational Healing
3) Compendium of Flower Essences
4) The Healing Spirit of Plants
5) The New Encyclopedia of Flower Remedies which was awarded The Kindred Spirit Complementary Medicine Gold Award for the Book of the Year
6) Live Better Flower Remedies (Beginners Guide)
7) The Practitioners Encyclopedia of Flower Remedies (Expanded)
She is a feature writer for Positive Health Magazine and has written for the Daily Mail and regularly quoted in numerous women's magazines such as Vogue, Hello, Elle, Cosmopolitan, Mari Claire, just to name a few and contributed to many periodicals and international newspapers and magazines. Clare not only writes about flower essences but innovative, leading-edge science-based products that work in conjunction with the flower essence to support and activate the body's natural internal healing mechanism. She is often a guest speaker at the International Floral Therapy Symposiums and Mind Body Spirit conferences.
As a business woman Clare has initiated a Natural Herbal & Chinese Medicine Company, an international flower essence company FlowerEssence CGH, which is dedicated to integrate education in the retail market, supplied and trained shops such as Nutri Centre (Tesco), Neal's Yard, Revital and Wholefood as well as practitioner organizations and suppliers such as New Vistas Health care in Ireland & the Natural Dispensary in the UK. Clare was on the Nutri Centre /Tesco Board of advisers as their Flower Essence Expert and is a leading light in the promotion of flower essences, generating increasing media attention and awareness through frequent appearances in the press, television and radio. A teacher and lecturer, Clare started the first International Professional Flower Essence Training school in 1988 as well as running the school for Shen Tao Acupressure. She consulted at The Hale Clinic, in London, the Centre for Complementary and Integrated Medicine in Upper Harley St. and has her private clinic at 103 -105 Harley Street.