At the age of five I entered the world of high performance sport as a member of the Központi Sportiskola (KSI – Central Sports School) gymnastics team. In 1986 I joined the Postás Sports Club and then, through a scholarship, continued in the USA with the University of Minnesota's gymnastics team. It was there that I concluded my active career in elite sport.  Between 1982 and 1992 I was a member of the Hungarian Women's National Gymnastics Team. During the time I represented Hungary in two European (1984 and 1987) and three World Championships (1985, 1987 and 1989) as well as the Olympic Games in Seoul in 1988.  Beyond numerous international wins and over ten Hungarian Champion titles, some of my most notable achievements include an Olympic eighth, a World seventh and a European sixth place.  Although I was still actively competing, I attended the 1992 Olympic Games in Barcelona as a correspondent – thanks to a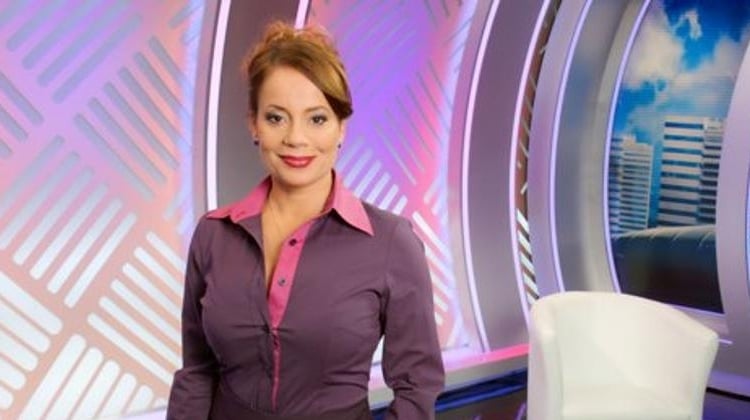 successful casting at the Hungarian Television (MTV) years earlier, which subsequently fundamentally influenced my choice of university studies. I majored in international communication and television at the University of Minnesota's Faculty of Arts while, and probably even more significantly, I gained valuable practical experience as a trainee at the CARE11 television station. Following my first Olympic broadcast, I had been offered a full-time position at the Hungarian Television where I've commenced my journalistic career in October 1992. Six years later I joined the team of MTM-SBS Rt. TV2 where I was working as an editor, reporter and anchor for daily news and various other current affairs, cultural and entertainment programmes for another six years. Since 2004 I have been working as a freelance journalist for the same television station, while expanding my activities as a private show-host in Hungary's market leading talk-radio. My weekly one hour-long talk-show with focus on sporting personalities, and record-holders lasted through 13 consecutive years resulting in overall more then five hundred hours long portraits, through interviewing Hungary's top athletes.
In 2009, I've joined the DIGI Sport Hungary television station at the very first broadcasting day of the freshly launched sport channel, where I was a leading anchor, and sport-reporter in the past seven and the half years. While working there, I was involved in football programmes, such as Champions League, Europa League, Italian Serie A, or the English Premier League, in addition to being a commentator on all gymnastics events of FIG in the past six years. I was also one of the two presenters of the channel's Morning Sporting Show, and I had a series of two hundred episodes of my own talk-show with well-known Hungarian athletes and artists. As part of my television career, spanning more than 28 years, I have reported from seven Olympic Games and around fifty World competitions, have worked as an editor, reporter and anchor on sports, extreme sports, political, cultural, documentary and entertainment programmes. I have been part of numerous other real life reports and short films as well.
My interest in the printed press, fulfilled continuously as well, resulted in becoming a senior writer and a columnist of the Prestige Sport Magazine. I frequently write the cover stories of this magazine with Hungary's most popular athletes, as well as such international stars, like Carl Lewis, Monica Szeles, or Mark Spitz. My ambitions in writing led to the publication of 4 books, focusing mostly on competitive sports and family life. Earlier, I had the opportunity to lead the Organising Committee delivering the Grand Gala of Henrietta Onodi (former Hungarian Olympic Champion in gymnastics), and the same being a member of the Organising Committee of the 'Athletes of the Year Gala' in the past five years held in Hungary's National Theatre, and broadcasted live in television.
I am extremely proud, that I was just elected to be the first vice-president of the Hungarian Sport Journalists' Association, the first female in this position ever, and to be a member of the Hungarian Olympic Committee. During the Rio Olympic Games, it was a great honour to be chosen as permanent Host of "The HOUSE OF HUNGARY" throughout the three-week long Summer Olympic period, established and run by the Hungarian Olympic Committee. "The HOUSE OF HUNGARY" was elected the best hospitality venue of the whole Olympic Games by an international jury.
In 2017, I was elected to be a member of the Executive Committee of AIPS, the International Sport Press Association. After this success, I have been actively involved in international sport journalism and sport diplomacy, becoming Hungary's first acknowledged female sport diplomat in the field of sport journalism. Ever since I have been representing my country in international events, like AIPS Asia extraordinary elections in Pakistan as a sport-lawyer, invited guests in Slovenia at the "Last call for quality journalism" conference, organised by the European Council and Slovenian Ministry of Culture and so on. In 2020 as a greatest professional challenge of my life, I was pointed to be the director of the organising committee of the 83rd AIPS Congress organized in Budapest, between 1-6th of February with the participation of 300 foreign sport journalists arriving from 120 countries. According to the feedback from the international society of sport journalists, the 2nd edition of AIPS Sport Media Award and the 83rd AIPS Congress turned out to be a big success professionally and in the cultural term as well.
I feel honoured that I could be a part of the initiative to establish the first post graduate Sport Media Studies in Hungary at the University of Physical Education in cooperation with the Hungarian Spot Journalists' Association. It is also an honour that I can give lectures about sport-law within the field of sport journalism, and I can share my experience by teaching sport commentary, news editing and anchoring on TV within these courses. Recently I was elected to be a member of the editorial board of the newly launched 'Sport Law' review.
I am also very proud of my wonderful family, my husband, who is Dr. Norbert Ketskés, a medical doctor, and my two sons.
Languages
English – Fluent (English Proficiency Test)
Italian – Basic
Hungarian – mother tongue
Dr. Zsuzsa Csisztu
Journalist, tv-presenter, lawyer specified in sports law LL.M.
Vice-President of the Hungarian Sport Journalists's Association
Member of the Hungarian Olympic Committee
Member of the Advisory Board of Hungarian Olympic Academy
Member of the Executive Committee of AIPS
Member of scientific board of ISNS